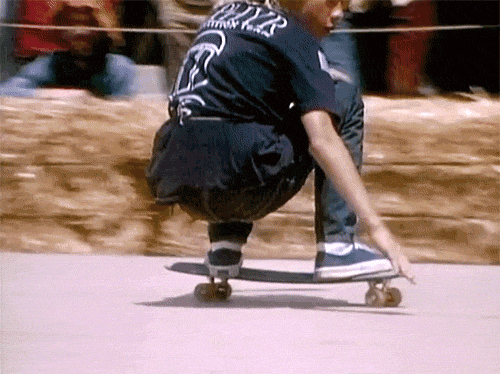 Created by Andeaux Borunda
We chatted about the next steps of the industry where the theory of "Heritage and Progression" are spliced together to create something authentic with non other than
the architect himself.... Vans' Global President Doug Palladini who is laying down the blueprints for the future from the roots of California that go back to '66.
The legend who started it all.
"It was never about waving the brand around like a flag. It was always about the people."
Today we are with Doug Palladini who is the architect of the next steps of the action sport industry where heritage meets progression in collaboration with parent company VF.
"The next 50 years is all about honoring our powerful legacy as we evolve and inspire."
The son of the legend who transformed the #1 action sports shoe.
"Lots of hardwork, good people and a dream."
Andeaux: The genesis of the waffle sole was originally geared towards to sailing. How did the
bridge form between the decks of boats to backyard pools?
Doug Palladini: While the first Vans made in 1966 are deck shoes in style, they were never intended for
sailing (in fact, most traditional deck shoes had/have "siped" outsoles, which some Vans did/still do).
​
Paul Van Doren was making Randy's before Vans and actually moved to California on behalf of
Randolph Rubber Company. But it wasn't until Stacy Peralta and Tony Alva came into the Santa
Monica Vans stores in the early 70's trying to buy one shoe at a time (they were wearing out
their back feet braking) that our organic bond to skateboarding was formed. The amazing film
Dogtown and Z-Boys picks up the story from there…
​
​
​
​
​
​
​
​
​
​
​
​
​
​
​
​
How do you keep Paul and Steve Van Doren's original vision valid?
We are incredibly fortunate to retain the Van Doren Spirit directly through the Van Doren family.
Founder Paul is a regular at Vans events, son Steve is our global brand ambassador, daughter
Cheryl leads Vans' Human Resources, and granddaughter Kristy runs events and promotions.
Their sincerity, work ethic and passion pervade all that we do at Vans all over the world.
You eat, breathe, and sleep the "Off the Wall" mantra in and out of the office. Do you
remember your first pair and did you ever foresee manning the ship of a movement?
I grew up in Los Angeles, skating from age six and then added surfing at 13, so Vans were a
part of my life since I can remember. I got this board in '79 to match my checkerboard slip-ons…
​
I can't remember specifically wanting to work at Vans, but I was always infatuated with the
action sports industry and used to spend days on end hanging out in surf and skate shops.
Growing up in Southern California and getting your first Gerry Lopez board, how did the
authentic action sport lifestyle appeal to you?
Dude you did your homework! Back in the day, print magazines were massively influential, and I
read every issue of Surfer and Skateboarder (until it became Action Now!) cover to cover. I had
a Gerry Lopez Pipeline soul arch poster on my wall and I ground down the curbs in front of our
house to dust. Looking back, those images and stories from the magazines were pure
inspiration to me and obviously got to me in a pretty powerful way.
​
​
​
​
​
​
​
​
​
​
​
​
​
​
​
​
​
​
​
​
​
​
​
​
​
​
​
You moved to L.A. at 6, where sound and the street collide, from Dog Town to Black Flag.
What is in the brand's recipe for attracting a core demographic to adopt Vans and not the
other way around?
It's a good question and Vans has a good answer. We are not a sponsor of art, music, action
sports and street culture, we are a part of it, from the inside. This happens by being sincere,
honest and authentic in every way possible. We don't slap logos on other peoples' gigs, we
curate our own. We hold ourselves accountable to being enablers of creative expression in
youth culture. We build skateparks. We host music series'. We make films. We honor the
incredible work of our extended family and their efforts to create as well. It's an ongoing
commitment that will never be completely satisfied.
In the world of action sports, you hold a grassroots strategy that include local demos,
and RV stops for ambassadors how does that add to authenticity to the brand's DNA
since '66?
Vans is an experiential brand which means we want to be in the mix where people are doing
what means the most to them creatively: skating, playing music, painting, customizing bikes,
whatever. Sometimes the experience is very grassroots with an RV and Van Doren grilling
dogs, sometimes it's the opposite end of the spectrum with a huge event such as The Vans US
Open of Surfing or House of Vans. Whether we are in a tiny parking lot or huge stadium, our
goal is to be a part of the culture that is a part of us. Paul use to use the phrase, "Tell a friend
about Vans" and we've tried to hold onto that very hand-to- hand, personal feeling as we have
grown.
​
​
​
​
​
​
​
​
​
​
​
​
​
​
​
​
​
​
​
​
​
​
"Off the Wall" separates itself from the pack, while other shoe companies draw focus to
organized sports, Vans highlights embracing individuality. How is it having a family at
the HQ who share the same passion for a lifestyle?
Our mission is to be the global icon of creative expression in youth culture. It's not that athletes
playing basketball aren't creative, it's that Vans' focus is on self-expression in art, music, action
sports and street culture. Focus is the key word: We want to be very clear about what we are
and what we are not. Ubiquity is not our objective and, while we are open to anyone, we also
understand we are not for everyone. That common source of inspiration applies to the 550 of us
at Vans HQ, the thousands more who work for Vans worldwide, the thousands of extended
family members globally who inspire us with their creativity every day, and the tens of millions of
fans who honor us each time they wear something from Vans to express who they are.
There are countless characters in the Van's family tree from Spicoli to banging his head
with a checkerboard shoe, Alan Hale on Gilligan's Island, dropping a Johnny Ramone
shoe and Curren Caples taking gold at the X Games, who do you think has had the
biggest impact worldwide?
That's like asking me to pick a favorite child! So instead of answering specifically, I would tell
you that from the first Era Vans dropped with Tony and Stacy, we have been committed to
working with skaters, surfers, snowboarders and BMX riders to drive our products and our
brand forward, and this amazing family of incredibly gifted misfits has left an indelible mark on
popular culture around the world.
​
​
​
​
​
​
​
​
Vans is a more than just a brand, it's a culture without borders pioneering the way we
walk down the street, or go down a handrail. What's something unique that Vans will
bring to the table in its next 50 years?
Wow, thank you for that, It's incredibly humbling to read and hear things like this; it never gets
old and we never take it for granted. We think of Vans in terms of heritage + progression and
how both work together to keep Vans relevant year in and year out. The next 50 years is all
about honoring our powerful legacy as we evolve and inspire. You will see new thinking from
Vans in footwear, apparel and accessories, but always tied to our roots: That's our responsibility
to both our most loyal fans as well as those who have yet to learn about Vans. A / F
Ray Barbee

Henry Rollins and friends

H.R. I